Canalblog > Membres > France > Southpaw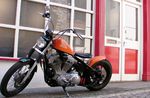 Southpaw
Membre depuis le 18 novembre 2012
France
Quelques mots
Used to be a teenage communist zombie werewolf monster from outer-space
Centres d'intérêt
Hot rods, kustom cars, muscle cars, bobbers & old-school choppers, Bettie Page, Blaze Starr, Roberta Pedon, the Navajo Nation, go-go dancing, Tarantino, Cohen Bros.,John Woo in Hong Kong, Bangkok, Chiang Mai, Moon Eyes, Jack Reacher, Joe Leaphorn & Jim Chee...
Films préférés
Touch of Evil, Vanishing Point, Faster Pussycat Kill! Kill!, Two-lane Blacktop, Thunder Road, Winter's bone, Red State, Lone Star, The Hills Have Eyes, The Hitcher, Frozen River, Osterman Weekend, A Simple Plan... & too many to list. TV Series too - Breaking Bad, Treme, Southland, The Sopranos, The Shield, Deadwood, Six Feet Under, The Newsroom, ...
Musiques préférées
garage punk rock'n'roll, rhythm'n'booze, classic funk & soul, kick-ass country, Johnny Cash, Johnny Burnette, The Sonics, The Stooges, The Oblivians, Zen Guerilla, The Demonics, Wanda Jackson, Loretta Lynn, Dolly Parton, ...
Livres préférés
Anything by George Pelecanos, Tony Hillerman, Don Winslow, Craig Johnson, Dennis Lehane, Lee Child... & Tim Willocks, Stephen King, Ron Rash, Joseph Boyden, James Crumley, James Lee Burke, Robert Crais, ...
Le blog de Southpaw
Real Kewl Trash (Redux)
Real Kewl Trash Rock'n'Roll on Wheels
Dernier message
(le 06/07/2019 à 14:44)
:
Thee Saturday Morning Jumpstart Track: Let's Go [Baby] (Where The Action Is)
"Le seul point commun entre ces deux pistes, outre leur titre quasi-identique, c'est l'année de..."
»
Tous les articles
Derniers commentaires:
(sans titre)
"Connais pas les Hot Rod R. Boys.. Je vais checker! A+!"
(sans titre)
"Salut. J'ai découvert ce titre il y a bien longtemps avec Dave Edmunds, et étant très fan de Mark..."