Canalblog > Membres > France > FIDJI75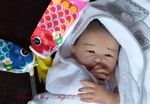 FIDJI75
Membre depuis le 20 novembre 2011
France
Site web
http://fidji75.canalblog.com/
Quelques mots
Artist painter franco-japonaise I paint since 2011 with love and passion of the babies reborns very detailed and realistic and I ave been creating sculptures since 2020
Centres d'intérêt
trompes l'oeil, sculptures, reborning http://fidji75.canalblog.com/
Le blog de FIDJI75
REBORN STORY

DoYa//Domi Yaegashi Gallery *** Thank you for your visit ***
Dernier message
(le 31/10/2021 à 15:42)
:
Sculpture in progress
"I continue my trials in the field of sculpture, a field that is completely new to me. All my..."
»
Tous les articles
Derniers commentaires:
(sans titre)
"trop mimi...😍🤡💋"
(sans titre)
"very nice work on a kit that I love. You are a true artist dear Madame. Kisses.i have a web about..."