Canalblog > Membres > lamaline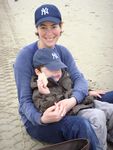 lamaline
Site web
http://www.childrensmiles.co.uk
Quelques mots
Voici la vie de notre petit Natan. Enjoy.
Don't hesitate to contact me for any help/question. Would be happy to help.
Le blog de lamaline
La p'tite vie de Natan - A diary

✪La p'tite vie de Natan au jour le jour✪Natan's diary
Dernier message
(le 14/10/2020 à 16:24)
:
Un petit post d'automne
"Natan is now officially a good looking teen-ager. He is not happy every day but at least he looks..."
»
Tous les articles
Derniers commentaires:
(sans titre)
"Bravo Nathan, you rock!"
(sans titre)
"Have you ever had a problem with bugs in your house? Ants, cockroaches, spiders, mosquitoes, and..."