Canalblog > Membres > États-unis > zaza-cook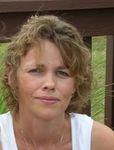 zaza-cook
Membre depuis le 2 octobre 2011
États-unis
Site web
http://www.everydaycooking.canalblog.com
Quelques mots
Welcome to EverydayCooking, my little corner of the web where I share my recipes.
I am a mom of two teenagers and wife of a wonderful husband. I am a French expat, living on the US East coast.
I started this blog to join the Daring Bakers. I am addicted to cookbooks and cooking magazines. I enjoy cooking new recipes.
My daughter and my son love helping me and tasting new recipes. We have a lot of fun in our kitchen. :)
My interests are yoga, pilates, cooking, baking, I love reading.
I love starting my day with a coffee latte.
My favorite place : le Café de la Madeleine in Paris.
My favorite movie : The Number 23, a 2007 American psychological thriller.
I hope you enjoy reading this blog as much as I enjoy finding new recipes.
Thanks for stopping by my blog. Zaza
Le blog de zaza-cook
Everyday Cooking, Easy R...
Mes aventures culinaires avec de nouvelles recettes salées ou sucrées :) EverydayCooking is a huge motivator to cook and try new recipes.
Dernier message
(le 09/03/2015 à 20:54)
:
New Blog
"Dear Readers, New Year, New Blog! Follow me on my new cooking blog My Kitchen Notebook..."
»
Tous les articles
Derniers commentaires:
(sans titre)
"It looks like the french "Pain d'épices", I love this bread !"
(sans titre)
"Salu, for you too, a very happy healthy and successful new year!"