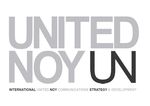 Site web
http://www.unitednoy.com
Quelques mots
United Noy .:. Think out of the box
The fields of communication are somewhat new practice. The first requirement is that United Noy is required to be primarily a craftsman from the shadows.
The agency United Noy's art lies in the communication consulting, custom strategic consulting, brand management, crisis communication, communication of influence.
United Noy's role is to decipher the codes and analyze situations in creating breakthrough innovation to each recommendation.
United Noy's motto: When you dream the world is changing the world. For United Noy, nothing is impossible, the only limits are those which are needed and United Noy vision is rotated 360 degrees.
Le blog de United Noy
United Noy .:. Think out of the box

Communications Strategy & Development
Dernier message
(le 06/05/2011 à 12:40)
:
United Noy .:. 10 MAI 2011 BASTILLE 19H30
" « Hier ici, demain aussi » Le 10 mai 2011, grand concert gratuit place de..."
»
Tous les articles