Canalblog > Membres > Allemagne > flohey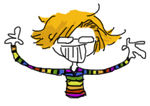 Site web
http://www.dailymotion.com/floheyflo
Quelques mots
Dynamic, motivated, eager to learn, multiculti and multi-engaged
______
contacte me : contact@florenceheyer.com
Centres d'intérêt
Different ways of creating (costume, special make-up, video), visiting conventions, running from one thing to the other and learn more and more... interests: I love foreign and exotic languages and cultures. I want to see the world with all it's differences.
Films préférés
Fiction (not the fairy-one), action or comedy... but no stupid clown throwing tart-humor.
Musiques préférées
favorites in each category first : -- Rock/Hardrock/Metal/Rock... Disturbed, AC/DC, Lynyrd Skynrd, Pink Floyd, Metallica, Billy Talent... -- Pop/Rock/PunkRock/JPop... german Radio, Michael Jackson, some interesting Anime Soundtracks (Cowboy Bebop p.e. and mostly Yoko Kanno, Die Ärzte... -- Acustic/calm Fritz Kalkbrenner, René Aubry, Yann Tiersen -- Ska/Punk.... The White Stripes, Rantanplan, Wizo... -- PopAcapella, MetalAcapella ;D Wise Guys, Van Canto and well... I kind of love Swinnnnng! ;) _____________________________________________ in short: nothing too girlish and monotone repetitive music! (like someone said once : "minimal techno")
Livres préférés
Action/Comedy or simply comics, manga, BDs with a little different fascinating style.
Le blog de flohey
Florence Heyer
An french-german student of art presents her work. - special make-up, costumes, video, animation, design, drawing...
Dernier message
(le 16/01/2014 à 22:29)
:
Curriculum vitae and portfolio
"','hspace':null,'vspace':null,'align':null,'bgcolor':null}">clic to enlarge ..."
»
Tous les articles
Derniers commentaires:
(sans titre)
"This is the most incredibly talented thing I've ever seen. Your attention to detail is impecible!..."
(sans titre)
"Hey, thank you so much for your interest. The links all seem to work. See more pictures here :..."