Canalblog > Membres > Laurent DOLCINO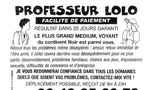 Laurent DOLCINO
Le blog de Laurent DOLCINO
Art Of Losing
Partage d'enregistrements rares pour la mémoire collective alternative. I share rares recordings for the alternative culture memory.
Dernier message
(le 24/09/2012 à 21:30)
:
ztop !
"Hi, Ok, I've reached my aim ! This blog is three years old. Time to stop. I don't think I..."
»
Tous les articles
Derniers commentaires:
(sans titre)
"La magie du web : dix ans plus tard, je trouve enfin un article sur Fra Dolcino vu en, je sais pas ?..."
(sans titre)
"Congratulations for the post and for your work. Great Job! clermont luxury homes for sale ..."