Canalblog > Membres > France > LODYA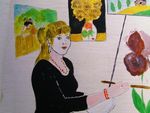 Site web
http://lodya.artgallery.free.fr
Quelques mots
LODYA is born in Southern Boischaut and lives now in the ligerian valley. She painted for more than ten years and takes part in national, international exposures and participate at art contests. Her watercolours were already published in (HACHETTE magazines, DESSINS ET PEINTURES reviews. She reproduces her watercolours starting from photographs taken at the occasion of travels or from postcards of more or less remote regions which were often her source of inspiration as well as the animals, the flowers and the portraits. Her subjects of predilection are the scenes of the daily life and over all, the landscapes of the edge of water. She tries to translate at watercolour with clear and limpid colors changing reflections of atmosphere and of light of the Charente-native coasts. She draw since her childhood. Then she practised painting on silk. She likes much worked this matter which lets diffuse painting, where thereafter Then she has discovered watercolour. Since ten years, she practises this technique that she tests to improve while following courses at Workshop of the Elm. She discovered painting with thereafter; oil, acrylic resin and soft pastel. Actually she follows painting courses with an art teacher at the Sculptor House to improve all these different techniques. Most of her art works is accompanied of a text or a poem that she wrote.
DROUOT COTATION ARTIST
2000 à 2007 : ARGENTON SUR CREUSE (36)
1999 à 2000 : BADECON LE PIN (36)
2003 : THUILIER GALLERY PARIS (Marshlands Quarter)
2002 à 2006 : ARA MARTIS (45)
2005/2006 : MEREVILLE (Essonne)
2007 : BOIGNY SUR BIONNE (45)
2007 : VATAN –International circus festival – (36)
2007 to 2017 : LARMOR PLAGE (56)
2008-2009 – 2010 : MEILLANT (18)
2006 : NICE (06)
2009 : BIJ KREPEL GALLERY NETHERLANDS
2002 à 2010 : note books competitions organized by National Monuments
2011 to 2015 : competition SALAUN notebooks
2003 à 2009 : Prices at poems competitions
2009 - 2010 : CHARENTON DU CHER
2009 - 2010 : GALLERY BIJ KREPEL NETHERLANDS
2011 & 2013: BRUGGES (BELGIQUE)
2011 : CANADA (QUEBEC)
2011 : MEZIERES EN BRENNE
2012 : EXPOSITION IN ROMA ITALY
2005 to 2014 : exhibition in GALLERY LE LAVANDOU
2012 to 2017 : MARSEILLE
2013 : SAINT TROPEZ
2015 to 2017 : BUXIERES LES MINES
2015 to 2017 : SALIES BEARN
2016 to 20219 : BUXIERES LES MINES, MARSEILLE, LARMOR PLAGE, LONDRES, PARIS,
SIRET n° 793 333 758 00019
Centres d'intérêt
PAINTING MUSIC READING CINEMA SPORT EMBROIDERY KNITTING CROCHETING
Films préférés
OUT OF AFRICA AUSTRALIA FILMS DE NICOLAS VANNIER DOCUMENTAIRES
Musiques préférées
MOZART BACH BEETHOVEN JOHANN STRAUSS
Livres préférés
KATHERINE MANSFIELD KAMALA MARKANDAYA ARTO PAASILINNA EMILY DICKINSON LAURIE LEE JEAN CRAIGHEA GEORGE SAND BALZAC MARCEL PROUST MARCEL PAGNOL JEAN GIONO
Le blog de LODYA
Le blog de LODYA

DECOUVRIR LE SITE : http://lodya.artgallery.free.fr (peintures à l'huile, aquarelles, acryliques....) Et la-galerie-de-lodya sur ETSY. Discover LODYA's blog and website
Dernier message
(le 25/06/2021 à 22:10)
:
PARTICIPATION A L'EXPOSITION ACAPAS FRANCE MONDE A LA GALERIE DU LAVOIR A GEMENOS (13)
"EXPOSITION A MARSEILLE JUSQU'AU 20 DECEMBRE 2021 GALERIE D'ART "
»
Tous les articles
Derniers commentaires:
(sans titre)
"Livre à découvrir sur EDILIVRE.COM - Berry et Vallée de la Creuse par LODYA"
(sans titre)
"Very beautiful castle"