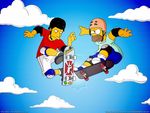 himynameisdave
Centres d'intérêt
music, art, photography, film maker, fast food, starbucks....
Films préférés
The Dark Knight, Star Wars épisode 1.2.3.4.5.6, Twilight, Seven Pounds, Back To The Futur, La Cité de la peur, Armageddon, L'insinct de mort, L'ennemi public n°1, Hancock, Big Fish, Jeux d'enfants, Sleepwalking, Into The Wild, Kikujiro No Natsu, Speed Racer, PS I Love You, Paris Je T'aime, Léon...
Musiques préférées
Fall Out Boy, Cobra Starship, Paramore, New Found Glory, +44, Angels&airwaveS, Gym Class Heroes, Arcade Fire, Midtown, Arctic Monkeys, Queen, Black Eyed Peas, Rihanna, Cute Is What We Aim For, Sublime, Panic At The Disco, The Hush Sound, All Time Low, The All American Reject, Charles Aznavour, Edith Piaf, Chuck Berry, The Moldy Peaches, U2, Antsy Pants, The Cure, Oasis, Wyclef Jean, Keziah Jones, The Sound, Bloc Party, Blink-182, This Is Ivy League, Paul Wall, Jimmy Eat World, The Beatles, Beastie Boys, Gaëtane Abrial, Lenny Kravitz, The Strokes, The Killers, David Guetta, Martin Solveig, Gossip, Calvin Harris, Katy Perry, Eisley, The Cab, Hey Monday, We The King, Yann Tiersen, Jeff Buckley, Elvis Costello, Coldplay, The Verve, Joe Hisaishi...
Livres préférés
into the wild
Le blog de himynameisdave
himynameisdave
blog et video blog
Dernier message
(le 15/05/2010 à 00:51)
:
Paramore-The Only Exception LIVE on Ellen
"Hayley is damn pretty on this vid ! :) :)"
»
Tous les articles
Derniers commentaires:
(sans titre)
"Ouai mais patrick des FOB il y aurait bien des petites groupie à crier même si c'est beaucoup pete..."
(sans titre)
"i filmed this, it wasn't awkward, he was good, the crowd was into it, and the only reason it was..."