Canalblog > Membres > Trendy Closet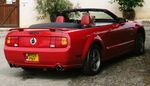 Trendy Closet
Site web
http://www.naturplus.co.uk
Quelques mots
Blonde with Ford Mustand...Une blonde avec Ford Mustang...OK, it is my husband's car, but trust me, I look real good cruising it!!...Bon, d'accord c'est l'auto de l'Homme, mais elle me va drolement bien au teint!!!
Suite logique du Blog cree debut Janvier, voici le Trendy Closet Shop...Mes trouvailles...Mon vide-placard et celui de ma fille...Logical follow up of the Trendy Closet Blog, ...My lovely finds...My wardrobe and my daughter's...here is the Trendy Closet Shop...
Les blogs de Trendy Closet
Trendy Closet

Frenchie goes to Britland...Une Francaise chez les ZangloSaxons...Humeur, Humour, Mode...
Dernier message
(le 26/07/2009 à 20:54)
:
Juicy UK!!...Collectors only...
"Special collectionneurs (euses)...THE Juicy Couture come back...Je sais: vous avez range vos..."
»
Tous les articles
Derniers commentaires:
(sans titre)
"Supers jolies ces shoes !"
(sans titre)
"We completely agree, their charms have certainly charmed us ;) Great blog Isabelle - what a..."
TrendyCloset Le Shop

Le Shop du Blog Trendy Closet...The Trendy closet blog Shop...Pour la maison, Pour soi...For the Home, for the wardrobe...
Dernier message
(le 13/02/2009 à 14:50)
:
Rule Britannia...Collectors'special...Special Collector
"Chez ACCESSORIZE ce matin...La collection "Union Jack Flag"...At ACCESSORIZE this..."
»
Tous les articles
Derniers commentaires:
sacoche Union Jack
"Bonjour, j'ai vu dans un magazine français une grande sacoche / besace avec l'Union Jack +..."
(sans titre)
"elle vaut quoi la pochette pailettes madame????"