Canalblog > Membres > États-unis > fanfanny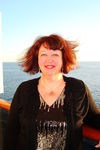 Site web
http://rivieraseabeads.canalblog.com
Quelques mots
My name is Françoise.
Best in show 2009 Applefest festival,Hilton, NY, USA
I am a local artist, my studio is located in Hilton, NY.
I am Passionate about different techniques of beading to make my unique creations. I am influenced by my French heritage and the sunny light and vivid colors of Provence, which I try to re-create in my work like a painter paints on canvas, by mixing pearls of different colors and shapes.
I specialize in fresh-water pearls, crocheted seed-bead jewelry and Swarovski pendant crystal that I design and create myself. I use high quality pearls, beads from Japan and Czechoslovakia.
All my pieces are sewn by hand, the old fashioned way (no crimp). A bead crochet necklace contains 1000 beads and requires about 4 hours to complete. Most of my creations are unique pieces.
I am always looking for new beading or weaving techniques to excel and love to make something new and unusual that no one did before.
This is what makes my creations unique –as unique as- the woman who will wear it!
I contribute to the community by offering pieces to charitable organizations,for fundraising purposes:
2007 - Puerto Rican Youth Development, Rochester, NY
2008 - Breast Cancer Association, Rochester, NY
- Kathleen Anne Tenny, Animal Shelter, Hilton, NY
2009 Winner of Best in Show. Blue ribbon, Apple Festival Hilton NY, USA
Visit my blog:
http://rivieraseabeads.canalblog.com
Video on YouTube:
http://www.youtube.com/watch?v=-fbtcKJopcA&feature=channel_page
http://www.youtube.com/watch?v=-fbtcKJopcA
You can also contact me by e mail @
mifr.long@hotmail.com
Le blog de fanfanny
rivieraseabeads

http://rivieraseabeads.canalblog.com
»
Voir le blog
Catégorie : Mode
Mise à jour : il y a 396 jours
Creation unique de bijoux cree aux USA par une Francaise pationnee de perles. J'utilise pour la realisation des creations, differentes techniques: peyote, chain rope, perles crochetees, cabochon, et assemblage de Swarovski.
Dernier message
(le 25/04/2017 à 08:36)
:
(sans titre)
"http://www.youtube.com/watch?v=DJgnezxrzco http://www.youtube.com/user/francoiseny ..."
»
Tous les articles