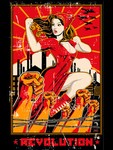 Manooch
Site web
http://https://www.facebook.com/loreille.demoscou
Quelques mots
We here are just music fans. We love to experience musical experimentation and get over-excited about it. So excited in fact, we also love to research, ponder and think critically about said music. The Ear Of MoscoW is the fruit of our love. We hope our insights lead you to something as exciting.The Ear Of Moscow is first and foremost a resource for discovering new, diverse music. Our goal is not to give away free music, but to use free samples in a manner that piques the interest of a reader and sends them in the right direction to rightfully purchase the music for their own personal use. We can't stress enough the importance of supporting the artists you love by purchasing their albums/merchandise and attending their live shows. It's a give and take system, so make sure you do your part.
Any artists/labels who do not wish for samples to be given, please contact me and I will remove them promptly.
All music submissions should be mailed to:
Yvan SHINTU
L'Oreille de Moscou
4 Impasse Ar Foennec
29100 Douarnenez
FRANCE
Centres d'intérêt
Musiques préférées
https://www.youtube.com/channel/UCCosufet1FYXgzXVkONt8uw
Le blog de Manooch
L'Oreille de Moscou

Une émission du Front de Libération de la Bande Fm
Dernier message
(le 18/03/2020 à 10:56)
:
Cocanha "Puput"
"label / Pagans distributeur / Autodistro. contact / C des mots On peut avancer sans..."
»
Tous les articles
Derniers commentaires:
(sans titre)
"Merci pour cette chronique! Merci pour la justesse du propos. Cela nous touche! A croire que vous..."
(sans titre)
"Le CD Artemis est disponible à la vente à l'Espaci Occitan : www.espaci-occitan.com"