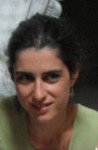 Centres d'intérêt
Drawing, painting, design, music, literature, sweets.
Le blog de Laura Freire
*akka design*

Art, craft, design
Dernier message
(le 25/03/2010 à 16:57)
:
*akka design* is on the move
"After nearly one year of blogging this blog is moving. Please visit us HERE from now on. "
»
Tous les articles
Derniers commentaires:
(sans titre)
"I am going to try this !"
(sans titre)
"Is Celtic Ceramics Connemara Erin Green range made in Kilrush Co Clare . Lots around"