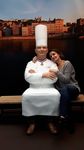 Site web
http://afoodiefroggy.canalblog.com
Quelques mots
My name is Anna, I am married and I have 2 daughters (16 and 23).
I live in Paris, France.
You must wonder "she's French , why a blog in English ?".
First, I was raised in an americanophile family. Don't ask me why my parents were obsessed with the USA; I have no idea. But now they have a good reason to go to the US every year : they visit my twin brother who, contaminated by their "I Love the USA" virus, decided to emigrate to California when he was 19 ! Now, he has spent more time there than in France !!
Second reason : I have many English-speaking friends and part of my husband's family is living in San Jose, California. They emigrated from France some 30 or 35 years ago.I thought it would be nice to share my passions with them and with anyone who, like me, loves to cook and travel.
As for me, I am aware my English is not perfect. So I apologize in advance for the many mistakes you will find in my blog. But I like to think that it is part of my charm ! wink ! wink !
My written english is "OK" but my spoken one is totally hilarious : I could have been married to Inspecteur Clouzot from "the Pink Panther" (which I pronounce : Zee Peenk Pantter" ). Alas, I think I am too old now to get rid of that accent.
Well I hope you will enjoy my recipes and my travel experiences as much as I enjoy other blogger's ones !
A bientôt,
Anna
Le blog de FoodieFroggy
A Foodie Froggy in Paris

A Devouring Passion for Food...
Dernier message
(le 26/06/2017 à 20:25)
:
Le bread Pudding*, vous connaissez ? Bread Pudding, a delicious curiosity for us the French
"Bread Pudding aux abricots du BLT, sauce chocolatBLT's Apricot Bread Pudding, chocolate sauce ..."
»
Tous les articles
Derniers commentaires:
(sans titre)
"J'ai fait ce banana bread pour mes élèves en cette fin d'année : Gros succès !!! Merci :)"
(sans titre)
"Well, with a food blog named like mine I definitely give in to the temptation of dessert more often..."