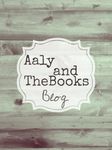 AalyPhal
Membre depuis le 11 octobre 2014
France
Site web
http://aalyandthebooks.canalblog.com/
Le blog de AalyPhal
AalyandTheBooks
I'm an avid French reader, always reading something! I can't help it!I'm reading all kinds of books in english or french!I have a thing for romance.;)
Dernier message
(le 30/03/2015 à 00:05)
:
This is almost a goodbye...but a new beginning elsewhere!
"Hi guys! I hope that everyone is ok! Some of you must noticed my quietness this week, and I wanted..."
»
Tous les articles
Derniers commentaires:
(sans titre)
"I wanna say huge and not juge! Sorry ;-)"
(sans titre)
"Thanks! I'm glad to share it and I know that this collection is gonna be a juge success! ;-)"