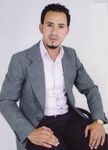 Site web
http://www.alibekou.canalblog.com
Quelques mots
I am an EFL teacher in Morocco. I personally moderate this Webpage and I hope it will be one of your favourites. This Blog revolves around teaching and learning English as Foreign language.
Go through the headlines and discover yourself. Everything is at your hand.
Centres d'intérêt
Encyclopedic Knowledge, Pedagogy, Business, Politics, Education, Psychology, Computer Science
Films préférés
Notebook, A Walk To Remember, The Edge of Love, The Illusionist, The Sixth Sense, Mamma Mia and so many others..
Musiques préférées
High Hopes, Hero, Ten Days, I am Walking Away, Three Little Birds, Exodus, Gimme gimme Gimme, Winds of Change, There is Peace and the list is extensive
Livres préférés
Un Marocain a NewYork, One hundred years of solitude, Sons and Lovers, pygmalion, Tess of the D'Urbervilles, and Other books of Educational Psychology and education in general
Le blog de bekouali
Bekou's blog