Canalblog > Membres > France > Linoa88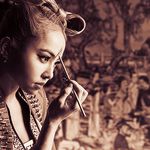 Linoa88
Membre depuis le 12 juin 2008
France
Site web
http://jolinjeneration.canalblog.com/
Le blog de Linoa88
[ PLAY世界巡迴演唱會 PLAY World Tour ] ~ Jolin ...

Your ultimate English source about Jolin Tsai (蔡依林)!
Dernier message
(le 28/07/2016 à 10:00)
:
Jolin performs at The 2016 Sichuan International Cultural Tourism Festival Opening Ceremony in Xichang
"It was on July 26th, she performed PLAY我呸 PLAY, 第三人称 The Third Person And I and 日不落..."
»
Tous les articles
Derniers commentaires:
(sans titre)
"Will Pan only released a DVD version of this concert, there is no official audio release..."
(sans titre)
"Is there any official audio for this collaboration?"