Canalblog > Membres > France > Linoa88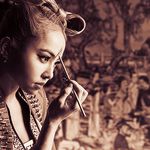 Linoa88
Membre depuis le 12 juin 2008
France
Site web
http://jolinjeneration.canalblog.com/
Le blog de Linoa88
[ PLAY世界巡迴演唱會 PLAY World Tour ] ~ Jolin ...

Your ultimate English source about Jolin Tsai (蔡依林)!
Dernier message
(le 26/04/2016 à 18:56)
:
Jolin attends a Cartier and a Giuseppe Zanotti event!
"Cartier's annual jewelry exhibition in Taipei (April 18th) Jolin revealed during that event..."
»
Tous les articles
Derniers commentaires:
(sans titre)
"Thank you so much for your review ♥ I'm jealous, I would be so thrilled if Jolin held a concert in..."
(sans titre)
"Hi! I've been to the show and I must say it was a unique experience! The Borgata Event Center is a..."