Canalblog > Membres > France > Linoa88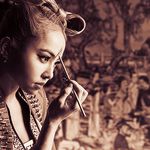 Linoa88
Membre depuis le 12 juin 2008
France
Site web
http://jolinjeneration.canalblog.com/
Le blog de Linoa88
[ PLAY世界巡迴演唱會 PLAY World Tour ] ~ Jolin ...

Your ultimate English source about Jolin Tsai (蔡依林)!
Dernier message
(le 22/05/2016 à 11:06)
:
PLAY World Tour Shanghai (May 21st): setlist, pictures, fancams + special guest 李宇春 Li Yuchun/Chris Lee!
"Setlist 01. 美杜莎 Medusa02. 大丈夫 Real Man03. 美人計 Honey Trap04. 愛無赦 Bravo lover[Interlude movie]05. I'm..."
»
Tous les articles
Derniers commentaires:
(sans titre)
"Thank you so much for your review ♥ I'm jealous, I would be so thrilled if Jolin held a concert in..."
(sans titre)
"Hi! I've been to the show and I must say it was a unique experience! The Borgata Event Center is a..."