Canalblog > Membres > France > Linoa88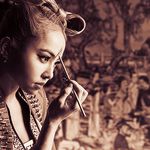 Linoa88
Membre depuis le 12 juin 2008
France
Site web
http://jolinjeneration.canalblog.com/
Le blog de Linoa88
[ PLAY世界巡迴演唱會 PLAY World Tour ] ~ Jolin ...

Your ultimate English source about Jolin Tsai (蔡依林)!
Dernier message
(le 22/11/2015 à 10:20)
:
PLAY World Tour Hangzhou (Nov. 21): setlist, pictures, fancams!
"It seems that Jolin caught a cold and did not perform the Phantom of the Opera part at the end of..."
»
Tous les articles
Derniers commentaires:
(sans titre)
"I don't know... Maybe because she's performing some of these "old" songs of hers during PLAY World..."
(sans titre)
"did you know why jolin and sonymusic official youtube channel suddenly upload old MV seperated? its..."