Canalblog > Membres > France > Linoa88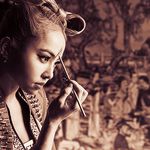 Linoa88
Membre depuis le 12 juin 2008
France
Le blog de Linoa88
[ PLAY世界巡迴演唱會 PLAY World Tour ] ~ Jolin ...

Your ultimate English source about Jolin Tsai (蔡依林)!
Dernier message
(le 04/10/2015 à 09:59)
:
PLAY World Tour Hong Kong: press conference + performance in Chengdu for the 3rd anniversary of Raffles City
"The press conference has been held on September 29th in Hong Kong! PLAY World Tour will come to HK..."
»
Tous les articles
Derniers commentaires:
(sans titre)
"There is a Play WORLD tOur in singapore and it's a 4 sided stage on July 25th"
(sans titre)
"Jolin will perform on July 25th in Singapore.